Best WordPress Plugins for Your Website
As a website owner, you're always looking for ways to improve your site and make it more user-friendly.
But are you struggling with the choice of effective WordPress plugins? In this blog post, we'll share with you our top 10 favourite WordPress plugins that every website should have.
No matter what kind of website you have, WordPress plugins can improve it. These are just 10 of the best plugins available, but many others can offer similar benefits. So, if you're looking to improve your website, be sure to check them out from your WordPress dashboard and the right plugin for you.
These handy little tools can help with everything from security to optimizing your content. So whether you're a beginner or a pro, be sure to check out these must-have plugins.
1. Rank Math
It is an all-in-one SEO plugin designed to help you rank your website higher in search engine results pages. It includes automatic keyword suggestions, page analysis, and competitor tracking features. Also, it is very user-friendly and easy to set up. It has both premium and free version. Other features include:
SERP preview
Automatic sitemaps
Schema templates
Content AI and Image SEO
2. WPForms
WPForms is one of the most popular WordPress form builder plugins. You can create any form, from a simple contact form to a more complex survey or quiz. It is perfect for gathering customer feedback, conducting polls, and collecting leads. WPForms comes with a drag and drop form builder that makes it easy to create forms without coding knowledge.
3. WP Rocket
WP Rocket is a caching plugin that speeds up your website by creating a static version of your pages and serving them to visitors from the cache. It is one of the most popular caching plugins available for WordPress websites. Some features include:
Caching engine
Compression of static files
Integration with Smush
Removal of query strings from static files
4. Wordfence
Wordfence is a security plugin that helps secure your website against hackers and malware. It includes features like two-factor authentication, real-time scanning, and malware scanning. It's a free WordPress plugin, but some options are available only in the premium version.
5. WooCommerce
WooCommerce is the best WordPress eCommerce plugin that lets you create an online store on your WordPress website. It comes with product management, payment processing, order tracking, shopping cart functionality, payment gateway integration, shipping integration, etc.
6. WP Shortcode
WP Shortcode is one of the free WordPress plugins that add shortcodes to your posts and pages. This makes it easy to add complex content without writing any code. Also, it can help add buttons, columns, or other elements to your pages and posts.
7. Elementor
Elementor is a powerful drag and drop page builder plugin that lets you easily create custom pages and posts. It comes with a library of widgets and modules that you can use to create any WordPress site. Also, it has the option of live editing with multiple WordPress themes and WooCommerce integration.
8. Smush
Smush is a plugin that helps optimize your images for faster loading times. It compresses your photos and removes unnecessary bytes from them to reduce file size. Bulk smashing and automatic smushing can help you reduce the size of your images without losing quality.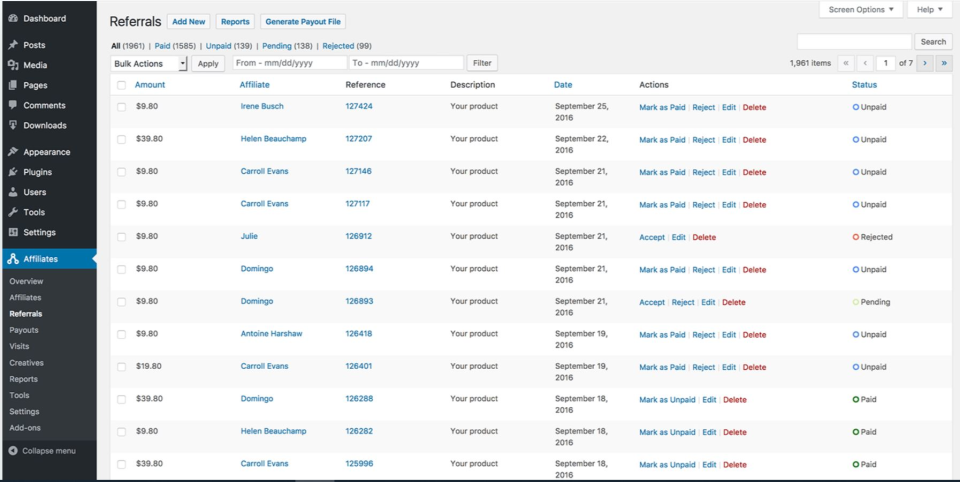 9. AffiliateWP
AffiliateWP is a powerful affiliate management plugin that lets you track commissions, referrals, and performance data. It comes with automatic commission tracking, referral tracking, and more. It's one of the essential and most popular WordPress plugins for any website that wants to make money through affiliate marketing.
10. Akismet Spam Protection
Akismet is spam protection, free plugin that helps to protect your website from spam comments and contact form submissions. It comes with features like real-time spam monitoring, comment moderation, spam comment filtering, the automatic deletion of spam comments, etc. It's a must-have for any website that gets a lot of comments from visitors.